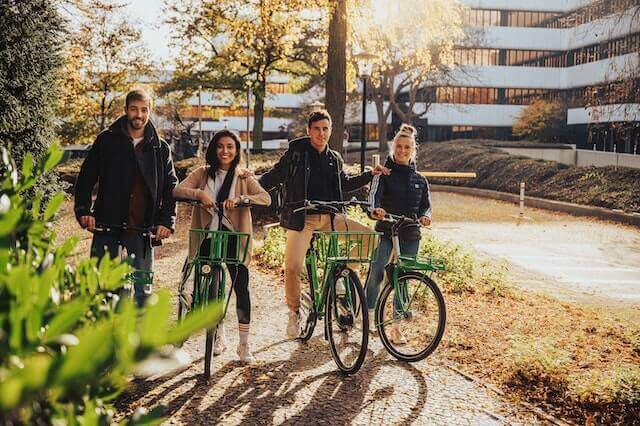 Picture this: You wake up to the sunrise, and the world outside is calling. More and more folks are finding joy and convenience in riding foldable electric bikes.
These cool bikes are changing the way we move around, making our lives easier, cheaper, and more eco-friendly.
Welcome to our guide on the best foldable electric bikes for adults. We've handpicked seven fantastic options for you. Whether you live in the city, suburbs, or love off-road adventures, we've got you covered.
Our goal is simple: to help you pick the right foldable e-bike for your lifestyle. We'll dive deep into the features and performance of each bike, so you can make a smart choice without wasting your time or money.
No need to wait – let's jump into the world of foldable e-bikes together. From city streets to rugged paths, we'll find the perfect ride to take you where you want to go.
1. TESGO HUM-PRO
Specifications
Motor: 1000 W Hub Motor
Top Speed: 28 mph
Weight: 66.2 lbs
Max Torque: 95 NM
Max Load: 330 lbs
Battery: Samsung 48V 17.4Ah (840Wh)
Charge time: 6 to 8 hours
Range: 40 to 70 miles
Controller: 48V/22A
Thanks to its 1000 W motor, you can conquer any terrain with TESGO HUM-PRO. In addition to being able to ride on different terrains, this motor makes you faster, allowing you to enjoy all the thrills of an outdoor adventure.
What's more? This foldable electric bike has a lightweight frame with a suspension system that makes your ride smooth even when you're traveling on rough roads.
The 80 mm hydraulic fork is adjustable and will help you stay in control even when riding tough terrains.
You don't have to worry about safety even when it's raining because TESGO HUM-PRO is water resistant. Since it's foldable, you can easily store and transport it to your adventure site.
If you're thinking of the perfect balance between functionality and comfort, this foldable electric bike is your best bet. 

Get an extra $50 Off with Coupon Code: 10SEDAN

2.    TESGO STT Foldable Electric Bike for Adults
Specifications
Motor: 1000 W Hub Motor
Top Speed: 28 mph
Weight: 66.2 lbs
Max Torque: 95 NM
Max Load: 330 lbs
Battery: Samsung 48V 17.4Ah (840Wh)
Charge time: 6 to 8 hours
Range: 40 to 70 miles
Controller: 48V/22
TESGO-STT is one of the best foldable electric bikes for adults. With its fat tires, this electric bike can withstand the challenge of riding in hilly and rocky areas.
The 1000 W motor helps to make the ride faster and even more powerful. Interestingly, you can do so much with TESGO-STT, thanks to its Samsung battery with a 17.4Ah capacity. 
This electric bike allows USB charging, which means you can use it to power your electronics while riding. You can also attach a basket to the bike's rack to help you hold your bags and other belongings as you ride.
Even though this electric bike has robust features, it is foldable, which makes storing and transporting easy. With this feature, you don't have to be away from your bike, as you can always pack it into your car's trunk.

Get an extra $50 Off with Coupon Code: 10SEDAN

3.    Eunorau E-FAT-STEP
Specifications
Motor: 500 W Motor
Top Speed: 25 mph
Max Torque: 80 NM
Max Load: 330 lbs
Battery: 48V/12.5Ah 
Range: Up to 50 miles
Eunorau E-FAT-STEP is not just another foldable electric bike for adults, it has an adjusting system that lets you choose the bike's height from 0 to 420 mm. With its 12.5Ah high battery capacity, you can travel up to 50 miles when riding this electric bike.
What's more? The battery is removable, which makes it easier to charge. 
There's no need to worry about safety when riding Eunorau E-FAT-STEP at night. The bike comes with a taillight that makes you visible to motorists over 1500 feet away. You also get to see important information like battery level, speed, and range, thanks to the small, but clear display that comes with this foldable electric bike.
Get an extra 5% Off with Coupon Code: 10SEDAN

4.    VIVI M026TGB Folding Softail Electric Mountain Bike
Specifications
Motor: 500W Brushless Gear Motor
Voltage: 110V
Variable Speed: Shimano 21 Speed Gear
Max Speed: 20 MPH
Max Load: 265LBS
Battery: 48V/7.8Ah Lithium Ion Battery
Charging Time: 4 to 6 hours
Range: Up to 50 miles
This VIVI M026TGB foldable electric bike for adults has an aluminum metal frame that makes it easy to carry. With front and rear brakes, and a speed transmission system, this electric bike gives you access to a wide range of speed options.
You don't have to fear the rugged roads, as this mountain bike comes with a high-quality shock absorber. Cool, right?
The 7.8Ah lithium-ion battery used in VIVI M026TGB is detachable and takes about 4 to 6 hours to charge completely. You can detach this battery and recharge it in your home or office using a USB charger. After every full charge, you'll be able to travel up to 50 miles on your foldable electric bike.


5.    DYU D3F 14 Inch Electric Mini Bike
Specifications
Motor: 250 W
Max Torque: 10 NM
Weight: 38 lbs
Max Load: 265 lbs
Top Speed: 15.5 Mph
Battery: 10Ah
Charging Time: 5 to 6 hours
Range: Up to 35 miles
DYU D3F is an electric mini bike that is portable enough for you to carry everywhere you go. If you ever get tired of riding your foldable electric mini bike, you can pack it up and then get a ride at the bus station. This mini electric bike is also compact enough to fit inside your car's trunk, if you're taking a long trip.
You can ride through the darkness by switching on the headlights, which is brighter than the usual LED lights.
Even when it is raining, you won't have to worry because your electric bike is water resistant and can withstand even the harshest of weather. What's more? A full charge can take you up to 35 miles. 


6.    Ecotric Fat Tire Portable and Folding Electric Bike
Specifications
Motor: 500 W
Battery: 12.5Ah lithium ion battery
Charging Time: 5 to 8 hours
Variable Speed: 7 speed levels
Ecotric Fat Tire is among the top foldable electric bikes for adults. One of the reasons for its popularity is the speed-system it possesses.
This speed system lets you choose between 7 different speed levels. Whether you're feeling adventurous or just want a cool evening ride, there's a speed level for you.
It takes 5 to 8 hours for the 12.5Ah lithium-ion battery used in this portable e-bike to become fully charged.
Fortunately, the battery is detachable, which means you can charge it whether you're at home or not. Once the battery of your Ecotric Fat Tire is fully charged, you'll be able to travel up to 30 miles.

7.    Ecotric Matt Black 48V portable and folding ebike with LCD display
Specifications
Motor: 500 W
Battery: 12.5Ah removable lithium-ion battery
Range: Up to 35 miles
Speed Variable: 5 speed levels
Ecotric Matt Black 48V foldable e-bike for adults has all it takes to give you a smoother and faster ride. And by that, we mean it has a 500 W motor that promises to help you conquer the roughest of terrains, come rain, come snow.
The manufacturers understand your need for speed and have made 5 different speed levels available. 
After a full charge, the 12.5Ah detachable lithium battery will give your e-bike the power needed to journey up to 35 miles. And if you get tired or run out of power, you can fold your portable electric bike and take it with you to the subway or bus.

Benefits of Choosing a Foldable Electric Bike
Lovers of electric bikes are now gravitating towards foldable e-bikes, one of the latest innovations in the industry. Not only are they stylish, but they also offer a wide range of benefits. Want to know what those benefits are? Take a look below.
Easy to Use
Unlike the regular electric bike, you can take your foldable e-bike along when taking the bus or Subway. Even better, you don't have to find a parking space for your electric bike. Being able to fold and carry your electric bike, and restore it whenever you want, is just one of the many benefits of having a foldable e-bike. You can keep it in the safety of your home or office, so nobody will tamper with it. What's more? You don't have to worry about it being stolen since it is portable enough to carry along.
Saves Time
A lot of time is required to go to the office, store, and then back to your home. With a foldable e-bike, you can cut down the time needed to commute by over half. That way, you'll have more time to engage in other activities. Most foldable electric bikes are designed by experts to look sleek, portable, and move fast.
They also have pedal assist, so you can still ride even when your e-bike runs out of power. The most common foldable e-bikes have at least a 25 Km H speed and 5 levels of pedal assistance.
Easy to Maintain
It doesn't take a lot to care for a foldable electric bike. That's because it has a lesser number of parts than the usual electric bike. All that is required to get your portable e-bike ready for action, is a full charge.
Most times, this full charge takes a couple of hours and supports USB charging. You can detach the battery from your portable electric bike and charge it in your home or office. 
Can't be easily stolen
You can't carry a regular electric bike wherever you go or keep an eye on it while carrying out one activity or the other. Fortunately, that's not the case with a portable e-bike. Foldable electric bikes for adults can be carried around the city, they fit inside car trunks, and can be monitored.
That means, the chances of a portable e-bike being stolen is very slim. Not having to worry about the safety of your foldable electric bike is a huge relief. 
Keeps you Fit
Riding is one of the ways you can exercise your body and keep fit. However, most traditional bikes are difficult to use or not stylish enough. Electric bikes, on the other hand, aren't just sleek, but are equipped with the right features to make riding a smooth affair. With a foldable electric bike, the benefits are even higher. You can use them to burn some excess calories, exercise your heart, and stretch your body muscles. The more effort you put into riding your portable e-bike, the faster you go, and the fitter you become. 

Factors to Consider When Choosing a Foldable Electric Bike
The right foldable electric bike isn't something you just wish for. You've got to make it happen by being intentional about the features you want your ideal portable e-bike to possess. Don't know what factors to consider when making that electric bike purchase? Look at some of the factors we've discussed.
Type
When you think about buying a portable electric bike, what type comes to mind? Is it a foldable mini e-bike or a mountain bike? While you may think the type of bike doesn't matter, it's important you know that it is a determining factor during purchase.
There are different types of portable e-bikes, and they have specific purposes. If you're looking for a means to transport yourself to work while saving on space, then a mini e-bike is the best. However, if your reason for buying an electric bike is for outdoor adventures, a mountain electric bike is your best bet.
Weight
Even though it is rarely discussed, foldable e-bikes bear lesser weights than standard electric bikes. If you're on the larger side, then it's best you find out how much weight a portable e-bike can bear before going ahead with your purchase. Otherwise, you'll be saddled with an e-bike that moves at a slow pace just because it can't handle your weight.
Regardless of how stylish and beneficial a portable electric bike is, there's no reason to buy it if it can't bear your weight comfortably. In this case, it's better to stick with regular electric bikes that you can ride without affecting its speed.
Motor
The more powerful a motor is, the faster you can go on the bike. If you're a lover of speed, then it's best to go for electric bikes with motors of at least 250 W. However, it's important to note that the faster you go, the more power your bike will lose. But that's not all.
Some jurisdictions in the U.S.A have regulations that determine how fast you can go when riding an electric bike. There's no reason you should have power that you can't use because of legal restrictions.
If your reason for buying an electric bike is to ride on hills and rocky land, you'll find a high-power bike suitable. But, if you are planning to travel long distances on the road, you don't need that much power.
Battery Cost
Folding e-bikes have great batteries. However, when you use them for a couple of years, it is advised that you replace the battery. Most times, replacing a battery can be costly especially if the portable e-bike is expensive. That's why you have to know the cost of a battery replacement before proceeding to buy an electric bike. Sometimes, you may see a cheap electric bike with an expensive battery.
Sensors
An electric bike comes with either a cadence sensor or a torque sensor. Immediately you begin to pedal, the cadence sensor will signal to the controller, which will produce the right amount of power to push you. The torque sensor works like the cadence sensor, unless it detects your efforts and produces a power that matches it. In other words, the higher your effort, the greater the power generated. Knowing the type of sensor you want can help you in making your purchase decision.
Safety Certificate
A safety certificate will tell you all you need to know about a portable e-bike manufacturer and the quality of materials used during production. For your folding e-bike to be considered safe in the USA, it must possess a UL2849 safety certificate. Before a brand can possess such a certificate, it means the products have been thoroughly tested and certified as safe. When you purchase a folding electric bike with such a certificate, you can rest assured knowing that your safety is protected.

How to Maintain a Foldable Electric Bike?
You need more than regular charging to get your foldable e-bike to last longer. Having said that, below are the practices to adopt when caring for your portable electric bike.
Keep it Away from Liquid
Not all electric bikes are water-resistant. If you aren't sure about the resistance of your foldable e-bike, then it's best to keep it away from water and other liquids. When it is raining, we advise that you wait until the area is drying before switching on your rechargeable bike. That's because water and other liquids will damage your e-bike when it enters the battery case or engine.
Prevent it from Rusting
Preventing your portable e-bike from becoming rusty is one of the ways you can maintain it. That's because rust can reduce the durability of your folding bike. Remember, your electric bike's frame is made of metal, and can rust when it comes in contact with rain and other substances.
Is your electric bike already rusty? No problem. You can make use of sandpaper to remove all rusts. Don't forget to apply a little lubricant when doing that.
Fold it the Right Way
Folding your portable e-bike the wrong way will not only reduce its durability, but also damage it. That's why you should try to fold your electric bike the right way if you really care about maintaining it.
The first step to folding your folding e-bike the right way is to unhook all buckles. When that is done, the head tube should be folded into two, and the bike's saddle lowered. If your electric bike has a pedal, press it towards the frame.
Clean it Regularly
When it comes to foldable e-bike maintenance, there's nothing like too much cleaning. You're advised to take out your portable electric bike for cleaning at least once a month. Check the hidden corners for accumulated dirt and oil the chains. You should also check the tires to ensure that they're in good condition. If you've done a thorough job, your e-bike will end up with a shiny look.
Don't Change the Default Setting
Every electric bike comes with default settings and software installations, and it's okay to want more out of your e-bike. However, you shouldn't adjust the default setting of your bike either manually or using software. That's because it may reduce the longevity of your folding bike and cause it to malfunction. 

Foldable Electric Bikes FAQs
Foldable electric bikes are one of the newest innovations in the industry. As a result, only a few people know much about them. Below are the frequently asked questions about foldable electric bikes. We hope you find the answers helpful.

Are foldable electric bikes any good?
Foldable e-bikes are portable and stylish. You can carry them with you or store them without taking up a lot of space. They are cheaper than other transportation means, as you only need to charge and use them. 

How fast does a portable e-bike go?
Portable e-bikes have varying speeds. You can find a good folding e-bike with a speed of 20 to 28 Mph. Don't forget that faster e-bikes means less battery power.

What's the function of an electric bike?
An electric bike is similar to your regular bicycle, but it comes with an electric motor. Once charged, this e-bike can transport you from one place to the other without stress.

Are folding e-bikes worth it?
There's a lot to gain from buying a folding e-bike. Not only are e-bikes affordable, but they are also environmentally friendly. Even though they may be expensive, folding e-bikes are absolutely worth it.

How much should I spend on an electric e-bike?
The amount of money you spend on an electric bike depends on the features you like. If you like e-bikes with great speed, then you should be ready to spend more.